Road to Rio: 'Coach' Brannen closing in on last Olympics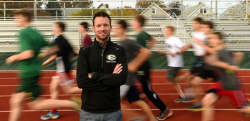 January 24, 2016
The 7th high-schooler in North America to run a Mile in under 4 minutes nears end of remarkable career.
By Greg Mercer, The Record
Nate Brannen frowns at his stopwatch and shouts instructions across the football field to a gang of shirtless teenage boys clustered on the track. They take off running, jockeying for position.
"That was good guys, way to go," he says, as they pass by. "But I told you take it easy. You guys raced it."
At 33, Nate Brannen has been a lot of things. Canadian high school record holder. Two-time Olympian. An NCAA track star. One of the country's fastest runners. But to these teenagers, he's got another, simpler title: Coach.
Continue reading at: www.therecord.com