Rough Run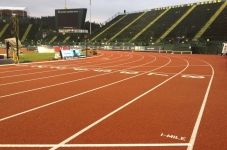 January 14, 2002
Illness robbed Debbie Heald of chance at Olympic Glory
By Diane Pucin, Los Angeles Times
Debbie Heald will carry the Olympic torch Tuesday. Once, she expected to carry an Olympic medal.
Once, Debbie Heald set the world record. She was 16, a junior at Neff High in La Mirada in her first international meet and she beat the women from the Soviet Union, bigger, stronger, older, silent women who scared her. Until she ran past them.
Now, Heald runs past the neighborhood dogs who shatter the night silence with their noisy greeting. She knows the police who patrol the streets of Norwalk in the middle of the night. They will flash their lights at Heald or pull over to say hello when Heald runs and walks the streets from 2:00am until 3 or 4, depending on how her sore hip feels. On weekends, Heald runs at 5:30. Her goal is to stay away from trouble, to let the drunks from the bars get home.
Her goal once was to conquer the world with her track shoes and her talent. Now, the men on the backs of the garbage trucks wave. Street cleaners call out her name. Heald will point to a house and say that the men who live there will sometimes party late and throw their empty beer bottles at her as she moves by.
Continue reading at: latimes.com