Santee's Overwhelming Saturday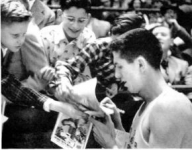 March 12, 1956
In an atmosphere of confusion a great Miler scores two triumphs which could be his last
By Roy Terrell, Sports Illustrated
This is the story of a foot race destined to go down in track history as the Blackstone Mile—the only race in the memory of even the oldest AAU official (and not even the elephant has a more enduring memory than an old AAU official) in which the lawyers involved outnumbered the runners 2-1.
It is also the story of a day in the life of one man, David Wesley Santee of Ashland, Kans., and a day in the lives of a lot of other men, some of them—like Santee—runners; others coaches and officials and journalists and members of the bar. There were also a lot of just plain fans involved, and although they knew little of what was going on behind the scenes that day, they can be thankful for small favors; at the end they were not nearly so confused as the insiders.
The day was Saturday, March 3, 1956 and the real name of the race, of course, was the Columbian Mile, for 30 years a feature of the Knights of Columbus meet in Madison Square Garden and the last major indoor Mile of the New York season. In years past it had been won by men with such famous names as Glenn Cunningham and Gene Venzke and Leslie MacMitchell and—just a year ago—by the fastest Miler ever developed in America, Wes Santee himself. For a while it looked as though the 1956 Columbian Mile might save an otherwise inglorious season during which a quiet-spoken Villanova student from Dublin, Ireland, Ron Delany, had dominated the indoor Mile events so completely that no one else had much fun at all.
TO START AT THE BEGINNING
Then, like a string of Chinese firecrackers, things began to pop all over and by late Saturday afternoon it began to look as though the Columbian Mile might not even get off the blocks. First, a New York court decided... but maybe that is not really the place to start—it all began much earlier.
Last spring Santee, freshly graduated from the University of Kansas and about to be commissioned a second lieutenant in the U.S. Marine Corps, accepted (demanded is the proper word, some believe) excessive expense money for running in a series of California meets and the story, with facts and figures, broke in a West Coast newspaper. Forced to investigate, Santee's own governing AAU body, the Missouri Valley Registration Committee, charged improper observance of the amateur code and voted on October 30 to suspend him indefinitely. This triggered a series of chain reactions that lasted throughout the fall and winter. Before it was over, the Missouri Valley Board of Managers reversed the decision and cleared Wes; the National AAU appointed a special committee to investigate and report on the entire matter; Santee ran in one indoor meet and was then advised to withdraw from others until a final decision was made on his case; the AAU suspended Santee for life, and the New York law firm of Cole, Grimes, Friedman & Deitz materialized to protect the interests of the United States' #1—and perhaps only—Olympic 1500 meter hope.
On this particular Saturday night Delany was to have competition: as late as Friday his challengers included Santee; Jim Bailey, the Australian who won the NCAA outdoor Mile for the University of Oregon last summer and was coming East for his first indoor start; Fred Dwyer, the little onetime Villanova distance star who won this event in 1953 and riotously dueled Santee throughout the 1955 meets but, up to now, had been sidelined by a leg injury; and George King of New York University, the IC4A 2 Mile champion who was perfectly capable of winning, even in such fast company. There was also a promising young runner named James Doulin of Manhattan, who certainly was not expected to win but could use the experience, and Ed Kirk, formerly of Georgetown but now in the Air Force. It was a truly exciting field and the fortunate few with tickets in their pockets were rubbing their hands with glee while others made a stampede to buy out the house.
We will take this to court said Mr. Charles P. Grimes. Sheer bluff said the AAU. As an amateur runner, Wes Santee is dead. And besides, added AAU Secretary-Treasurer Dan Ferris, if you do get an injunction and the courts do say Santee can run, who's he going to run against? None of the other boys is going to endanger his amateur standing in an Olympic year by running against what amounts to a professional—or at least they had better not.
Continue reading at: si.com