School Celebrates 40 Years of Its Mile Marathon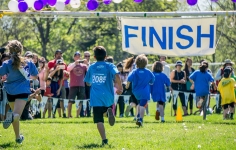 May 26, 2017
"The Mile Marathon is the oldest, longest-standing race in Boulder, and one of the oldest west of the Mississippi"
By Lisa Jhung, Runner's World
It's not every day that three-time Boston Marathon winner Uta Pippig dances in the neighborhood streets with elementary school kids before running a Mile alongside them. But once a year in late May, the legendary runner joins dozens of others at Columbine Elementary School in Boulder, Colorado, to celebrate running.
Wednesday marked the 40th running of the Columbine Mile Marathon, an event in which children, teachers, parents, and other running community members race a Mile course around the school grounds.
In 1978, two teachers asked local running coach Rich Castro to start an event to help celebrate the end of the school year at Columbine Elementary. Castro helped start the University of Colorado's women's running programs, founded the Boulder Road Runners, provided help to start the Bolder Boulder 10K, and led the Frank Shorter Racing Team. "I told them I could come up with some games or something like that," says Castro, "but why not do a running race around the school?" The Mile-long race was born.
Continue reading at: www.runnersworld.com