Sebastian Coe Once Again in Global Race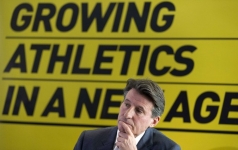 May 08, 2015
Coe, like Sergei Bubka, has big plans if he wins the IAAF presidency...
By Christopher Clarey, New York Times
The middle-distance star has become a marathoner.
Sebastian Coe, Mile legend, traversed plenty of time zones in his competitive running days, but that is nothing compared with what he has done lately in pursuit of the presidency of world track & field's governing body, the International Association of Athletics Federations (IAAF).
The intercontinental chase is not without its lighter side. Between journeys, Coe recently settled into a chair at a movie theater with his family to watch "The Theory of Everything," only to realize that his daughters were staring at him incredulously.
That was because he was fumbling around searching for the seatbelt, as if preparing for takeoff.
Continue reading at: nytimes.com