She Runs and We Are Lifted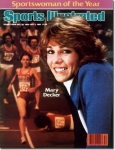 December 26, 1983
Mary Decker is moved by a competitive yearning that rises from so deep in her character that it connects with her will to be loved.
By Kenny Moore, Sports Illustrated
What a glorious conceit it is to pick a Sportsman of the Year. Can anyone really study the ranks of different champions and record setters and know who did the best? Are not victorious golfers, hurdlers and tennis players ultimately apples and oranges? Even more presumptuous is judging who came closest to attaining private potential, for that might be, remember, an athlete who didn't come near winning. Perhaps most arrogant of all is to proclaim which athlete serves the rest of us as the most luminous example.
But, Lord, we want to. Who follows sport, who understands competition, who does not care to know an overall winner? At year's end, we almost involuntarily return to those few moments when an athlete's movement and personality joined to lift us into ecstatic assent, be it partisan, esthetic or moral.
We know what we like. We know how we feel. In 1983 we honor Mary Decker as our Sportswoman of the Year. We do so for her dramatic double victory in the 1500 and 3000 meters in the first World Championships of track and field, in Helsinki; for coming to hold all seven American records from 800 through 10,000 meters; for breaking, over the past two years, seven world records—an unprecedented feat both in terms of absolute number and in the span of distances over which those marks were achieved—and for being undefeated this year in 20 finals, on tracks indoors (three) and outdoors (16) and on the undisciplined surface of a road, an unrivaled and masterly accomplishment.
Continue reading at: www.si.com