Simpson Earns Record-Extending 7th Win at New Balance 5th Avenue Mile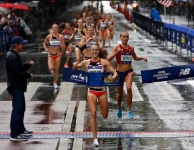 September 09, 2018
Wightman men's champion; a record-tying 17 women sub-4:30; also an event record 7,704 finishers across 22 heats in world's longest running road Mile; $30,000 prize purse awarded
From NYRR
NEW YORK — The USA's Jenny Simpson raced to her record-extending 7th win and Great Britain's Jake Wightman picked up his first victory at the New Balance 5th Avenue Mile under a steady rain on Sunday as 19 Olympians raced down Manhattan's most famous thoroughfare.
In the world's longest running road Mile race, 32-year-old Simpson won for the sixth time consecutively, holding off her competition in the final steps by four tenths of a second to clock in at 4:18.8, the 10th fastest women's time in the event's 38-year history.
"I love that this race is American-made right down 5th Avenue, and I love that where I'm best known is here at home," Simpson said. "Being a seven-time winner is very special to me."
The USA's Colleen Quigley, 25, finished second in a personal-best time of 4:19.2, recording her second podium appearance in the 2018 NYRR Pro Racing Series after winning the NYRR Wanamaker Mile in February. Great Britain's Melissa Courtney, 25, was third, also notching a personal-best time of 4:20.2. In addition, a record-tying 17 women went sub-4:30 in the same race (also 2016 event).
Wightman, 24, won the men's race in 3:53.5, well exceeding his seventh and 16th-place finishes at the event the past two years. New Zealand's Nick Willis, 35, who was aiming for his record-breaking fifth event title, was the runner-up in 3:54.2, while Great Britain's Neil Gourley was third in 3:55.3 in his road Mile debut. Rising star Eric Avila was top American in fourth, clocking 3:55.5.
In total, an event record 7,704 finishers crossed the finish line at the 38th New Balance 5th Avenue Mile. Twenty-two races took place throughout the day, including specialty heats – such as the George Sheehan Memorial Mile for seniors, Media Mile and NYPD / FDNY Mile – as well as Rising New York Road Runners heats for youth and youth wheelchair racers.
In conjunction with the race, the NYRR Virtual New Balance 5th Avenue Mile took place from September 1-9 as part of the 2018 NYRR Virtual Racing Series. The series allows runners anywhere in the world to run a race at their convenience and at a location of their choice during a specified period of time. Proceeds from the NYRR Virtual Racing Series, launched in beta together with Strava in 2018, benefit NYRR's youth and community programs.
Full results and coverage from the 5th Avenue Mile can be found at: nyrr.org