Sophomore Cruz Culpepper shines in the Mile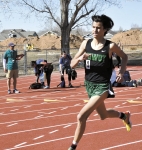 April 15, 2018
"If you look at it, it's all there. We haven't seen it all, and it's going to be exciting to watch the 4A Mile at state."
By Jocelyn Rowley, Left Hand Valley Courier
Niwot sophomore Cruz Culpepper has finally hit his stride.
After head-turning performances in two recent high profile track meets, the son of two Olympians - Shayne & Alan - is generating buzz not just in local running circles, but nationally as well.
On March 31, Culpepper took second in the 1600m at the Texas Relays, with a time of 4 minutes, 11.54 seconds, the fifth fastest high school time in this event so far this year. On April 7 in southern California, he took first in the boys Mile race at the prestigious Arcadia Invitational with a time of 4:13.14, the third fastest national time, and the fastest time for a 10th-grader by nearly five seconds.
Culpepper said in an interview with Runnerspace.com afterwards that he "felt super comfortable the whole race, so I was able to have the strength to win."
Niwot head track coach Maurice Henriques said he was not shocked by Culpepper's abrupt emergence as a national standout.
Continue reading at: lhvc.com