Sportsman of the Year: 1966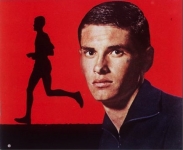 December 19, 1966
Youngest person ever selected as SI's Sportsman
By Sports Illustrated
In its first issue, in August 1954, Sports Illustrated reported the duel of the original 4-minute Milers, Roger Bannister and John Landy, at the British Empire Games in Vancouver. Bannister won and, at the end of 1954, was named our first Sportsman of the Year.
Now, a dozen years after Dr. Bannister, another Miler succeeds to his title. Jim Ryun, only 19 (he had his seventh birthday a week before Bannister ran that 4-minute Mile), is the youngest person ever selected as our Sportsman, but his accomplishments and, more significantly, his attitude toward them are strikingly mature. Much was expected of Ryun after track followers became aware of him in the spring of 1963 when, as a 16-year-old high school sophomore, he ran the Mile in 4:08.2. He has more than fulfilled these expectations.
At 17 he became the first high school boy to break four minutes and he made the U.S. Olympic team. At 18 he defeated the redoubtable Peter Snell, then the world record holder, in a 3:55.3 Mile, fastest ever run by an American. At 19 he reached the acme of achievement. On May 13, competing in a two-Mile race for only the second time in his career, he did 8:25.2, the third fastest two-Mile ever run. On June 4 he ran the Mile in 3:53.7, a tenth of a second off Michel Jazy's world record, and was startled by the time because he knew he had not nearly approached his maximum effort. On June 10 he dropped down to the 880 and set a new world record of 1:44.9. And on July 17 he broke Jazy's Mile record by almost two and a half seconds when he ran 3:51.3. It was an astounding performance. If Jazy, Snell and Herb Elliott had run their world-record times in that race they would have finished between 15 and 25 yards behind young Ryun. Roger Bannister would have been 60 yards behind him.
Continue reading at: sportsillustrated.com