St. Ninians primary school makes pupils run a Mile a day to cut childhood obesity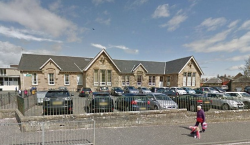 September 29, 2015
'It's a common sense approach to children's fitness, which is free and easy. The most important thing is that the children really enjoy it, otherwise you couldn't sustain it."
By Eleanor Harding, Daily Mail
A primary school is making all children run a 'daily Mile' in a bid to improve their fitness and focus their minds.
Teachers have sent pupils out every day to walk or run a Mile for the last three years, and claims none is overweight as a result.
Researchers from Stirling University are undertaking a study of St. Ninians in the city to determine whether the daily Mile should be adopted nationwide.
Dozens of other primaries across Britain have already adopted the scheme for the new school year as part of their drive to cut childhood obesity.
Daily Miles are now run in schools in London, Gateshead, Wales and other parts of Scotland, with 30 schools in Stirling alone taking part.
Continue reading at: www.dailymail.co.uk