The Bowerman Mile: Why It Matters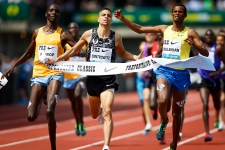 May 26, 2018
"That's why some meets like the Prefontaine keep the Mile. They understand how important it is."
By August Howell
For nearly every professional sport, there are certain numbers and statistics that are recognized as a pinnacle of achievement: Joe DiMaggio's 56-game hitting streak, Kareem Abdul-Jabbar's 38,387 career points, Michael Jordan's six NBA championships. For track & field, the sub-4 minute Mile is not just a time — it's a status.
But the Bowerman Mile, which will take place Saturday at the 44th Prefontaine Classic, is one of only a handful of major international Mile races left in the world. The few others include the fabled Wannamaker Mile at the Millrose Games in New York, the Dream Mile in Oslo and the Hy-Vee Men's Invitational Mile at the Drake Relays.
The Bowerman Mile consistently fields the best Milers in the world. It's a tribute to an older track race, honoring two Oregon greats at the same meet. Though it is held in a Diamond League meet, it does not count toward points at the end of the professional circuit, yet it still gets reigning world champions and junior world record holders to compete.
Competitors this year include the 2017 gold and silver world championship medalists in the 1500 meters, the 2016 Olympic 1500m champion, the meet record holder and the youngest sub-4 Miler ever.
However, most of those athletes have careers that revolve around running the 1500 meters, not the Mile. Yet that distance is harder to follow for viewers, and only devoted track fans know what a fast time is.
Even though the 1500 meters has been an Olympic event for over 100 years, most sports fans recognize the Mile, with its 4 minute Mile barrier, as more historically significant. The Mile exists in this delicate balance.
The Mile has remained popular because breaking 4 minutes is still seen as one of the few accomplishments in the sport that can distinguish any athlete as truly special. Even as running under becomes more common, there is a cultural history behind the Mile that still persists.
Continue reading at: blogs.uoregon.edu