The Fast and the Curious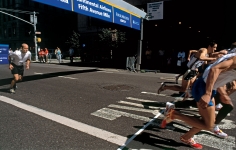 June 01, 2006
At New York City's Fifth Avenue Mile in 2005, a middle-aged runner with big ideas wondered if he could hang with the elites. Then the gun went off.
By Robert Sullivan, Runner's World June 2006
I was an elite runner for a day, or more precisely, a faux-elite runner for a day. And even though I suffered physically and emotionally and in ways that I may only understand many years from now, I loved every moment.
It was a perfect September afternoon in New York City, and the Continental Airlines Fifth Avenue Mile ran from 80th Street to 60th Street on Fifth Avenue, or 20 beautiful and usually cab- and Mercedes-filled blocks. The actual elite racers were all very tolerant, if not nice, to me, but one big difference between me and the elite athletes running that day was that they had been training for the race, running all year, scheduling the event on their calendars months before. I, on the other hand, pretty much just showed up.
I had gotten a call a couple of days earlier from a running insider seeing if I might want to, well, run the men's elite Mile in the Fifth Avenue competition. Now, as it turns out, the same day that the elites are running, there are Mile races for nearly every age group, from 20- to 29-year-olds to people 70-plus. You know, regular weekend-warrior types. But not thinking it through, I said, "Sure, put me in against the elite men," because though I have never actually trained as a Miler, I have very actively imagined running a Mile really, really fast. I would be running the Walter Mitty position in the Fifth Avenue Mile, except that unlike Walter Mitty, I would not just be daydreaming a race with the fastest runners in the world but actually experiencing it, with ESPN cameras, with crowds watching, where, if I passed out, I might be trampled by elite Mile-running athletes or, depending on my time, the Fifth Avenue bus.
Continue reading at: rw.runnersworld.com