The Long Road: Jordan McNamara's Path to Success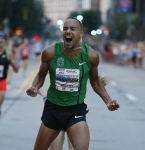 August 17, 2014
Injuries have not kept OTC Elite athlete from chasing his running dreams
By Jonathan Gault for LetsRun.com
Watch Jordan McNamara run. At the end of a race, it's a beautiful sight, the outside of the front of his foot making just the briefest contact with the ground as his long, willowy legs propel his lean 5'10" frame forward. The smoothly pumping arms and upright form belie the effort needed to generate such speed. At his best, McNamara appears to be floating. But that form, which has carried McNamara to three USA finals in the 1500, a 3:34.00 PR and, most recently, a win at the GNC Live Well Liberty Mile on August 1 over U.S. 1500m champion Leo Manzano, comes with a price.
"Some people get hamstring strains, some get achilles tendonitis; for me, it's stress fractures," says McNamara, 27. By his count, he's up to 14 in his career, and they've come all over. His femur. His fibula. His metatarsus. The navicular bone in his foot.
The injuries date back to high school. His senior year at Auburn Riverside High School in Washington, McNamara went undefeated in cross country but a stress fracture in his left fibula prevented him from competing at states or Foot Lockers. That spring, McNamara was the state leader at 1600 but a staph infection two weeks before the state meet caused him to miss time and McNamara was only third. Injuries have caused him to miss important races since then — he withdrew from USAs this year when his foot began to swell — but McNamara, ever the optimist, doesn't like to dwell on what might have been.
"Whether it's running or a scratch in his car, a speeding ticket, he never gets angry about it," says his close friend Doug Benson, who lives in Eugene with McNamara and McNamara's wife Aubrea a mile southeast of Hayward Field. "He's very methodical, trying to think about how to resolve the issue at hand."
Continue reading at: www.letsrun.com