The Patrón 4-Shot Mile Tour 2016 Announced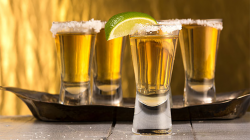 April 01, 2016
Four city tour includes Los Angeles, New York City, Chicago and Las Vegas; $1 million prize purse plus $1 million bonus for 4-stop, 4-shot champions; live broadcast on Netflix; 4-laps, 4-shots, 1 staggering champion!
By Kari Nation, TMZ.com
LOS ANGELES – (April 1, 2016) – In response to the popularity of the Beer Mile, Patrón, a leading premium tequila, has launched the Patrón 4-Shot Mile Tour 2016. The inaugural Tour offers an overall prize purse of $1 million plus $1 million bonus money available to anyone who wins all four tour stops. The 4-city series opens in Los Angeles on Cinco de Mayo, Thursday, May 5 with the second stop New York City on Monday, July 4, third stop Chicago on Monday, September 5, Labor Day and the finale in Las Vegas, Patrón's headquarters, on Monday, October 31, Halloween.
"With the recent Beer Mile buzz and ongoing Second Running Boom, now is the ideal time for Patrón to expand its footprint in the sport to reach millions of runners and their family and friends who also enjoy handcrafted tequila," said Patrón Senior VP of Marketing Ed Livermore. "In addition, we are thrilled to partner with Netflix to stream live all four Tour stops for people around the world to watch the action."
Each Tour stop offers $250,000 in prize money for the top 8 per gender with $50,000 for each event champion. If anyone wins all 4 Tour stops, the individual will be crowned the Patrón 4-Shot Mile Tour Gran Champion and pocket an extra $500,000.
Not everybody likes Patrón's linkage with the Mile, perhaps the most known and understood distance in the United States.
"We predicted and warned that the Beer Mile would be the gateway to a series with harder liquor," commented Ryan Lamppa, Bring Back the Mile founder. "We support and celebrate Mile events that are authentic, community-based and family-friendly, and moreover, don't promote and glamorous binge-drinking. Thumbs down, way down, Patrón."
Patrón 4-Shot Mile Tour Rules:
► For each lap completed, the participant must down one shot of Patrón, with or without lime and salt.
► Official time will be determined by gun time with completion of 4-laps and 4-shots in sequence.
► If the participant leaves the track at any time, including the infield, said participant will be disqualified immediately.
► If the participant pukes before the finish line or within 4 minutes of downing the last shot, said participant will be disqualified immediately.
Visit Patron4ShotMileTour.com for more information.