This was a Time to Remember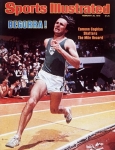 February 26, 1979
Spurred by a memory, Eamonn Coghlan wiped out the indoor Mile world record; runner-up Steve Scott set U.S. record in San Diego
By Kenny Moore, Sports Illustrated
Forty-five minutes before the Mile, Eamonn Coghlan began to warm up. As he ran through the tunnels beneath the San Diego Sports Arena, where the Jack-in-the-Box Indoor Games were noisily taking place last Friday night, February 16, Coghlan reflected upon that delicate and elusive combination of character and conditions that must be present to produce a historic performance. Many of the crucial elements seemed to be joining.
For one, the 5'10", 140-pound native of Dublin, Ireland was hard and fit from the most thorough half year of training that he had ever done. Then, too, he had run to within one tenth of a second of Dick Buerkle's world indoor record of 3:54.9 in winning the Wanamaker Mile at the Millrose Games a week earlier, even though he had dawdled and slowed in the final yards. "My wife and sister said I'd been dumb. I heard that all week long," said Coghlan, a man who is never dumb twice. He knew, too, that the San Diego track was considerably faster than Madison Square Garden's.
Fifteen minutes before the start, Coghlan stopped jogging and began to stretch. "I can usually tell from my stretching how well I will run," he said afterward. "Tonight it was good." He examined his own frame of mind. "I was confident of winning," said this man who has lost only one indoor Mile in seven years, to Kenya's Wilson Waigwa on the same San Diego track two years ago. "I thought of how Waigwa and John Walker had canceled out of the field on Wednesday." Waigwa had injured his ankle, and Walker, the outdoor record holder at 3:49.4, had become ill and returned home to New Zealand. "I was really glad," Coghlan said. "Had they run, there would have been more pressure on me. I would have had to concentrate on the winning." Another prospective rival, Filbert Bayi, the world record holder in the 1500, would be in the field, but he was so obviously out of shape Coghlan figured he would not be a factor. Thus the world record could rise as a clear objective, and chances could be taken in attacking it.
Ten minutes before the race, Coghlan began to glide through several brisk 80-yard runs, weaving his way through his competition. In it was Paul Cummings, a BYU graduate who is now a temporarily unemployed steelworker living in Orem, Utah. Cummings had set the pace in the Wanamaker Mile, and during the last half of Walker's indoor world record 3:37.4 in the 1500 at the Muhammad Ali meet in January. He would undoubtedly be in front early. Cummings knew he could not kick with Coghlan. His somewhat vain hope was to run so hard that he either built a safe lead or brought the field to staggering exhaustion with a lap to run.
Continue reading at: sportsillustrated.com
Mile indoor world record progressions HERE.
NOTE: The first time three men (Coghlan, Scott and Steve Lacy) had bettered the previous Mile WR in the same race, indoors or outdoors.