Through the Eyes of the Lion: A Glimpse of Hope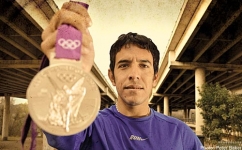 January 05, 2014
Adversity has taught me to defeat those obstacles to continue doing what I love without limits.
By Leo Manzano
First of all, thank you for visiting my new blog. When I began this new endeavor, I was not sure how it would work or if it would be worthwhile. I was also afraid I would be forced to stop running if I did not take action, so I decided to take the risk. I was fortunate to have the help of friends who believed in my idea and gave me the encouragement and help to figure it out. Since I wanted to be completely involved in the project and did not have much money to risk, we began meeting in the evenings doing most of the planning since August. Though it took some time, we were moving forward with hopes to be able to let my supporters know my situation. The result of this is a very basic website done with a tiny budget, but which we will improve soon! But the best of all is that thanks to the positive feedback I have received, I am no longer feeling ashamed of myself for not having an apparel sponsor.
I have faith that you will continue to support my T-Shirt project. The first orders have been shipped, so some of you should be getting your shirts on Monday, but please bear with us as we improve our system. We are also working to improve the shipping fees and processing times in the near future. I also have a money back guarantee. If you are not happy with your shirt, I will issue a full refund if you let us know within 30 days.
As you know, last year was difficult for me, but I also realize that we can overcome those obstacles by not giving up. In 2010 and 2011, I suffered injuries and had to make sacrifices, then in 2012, I accomplished my dream of becoming an Olympic medalist, but also lost my sponsorship shortly after. Each step of the way I know it has been a struggle, but I know that it has not been for nothing. We must go through hardships to help us grow, learn to be strong and learn how to walk again. Adversity has taught me to defeat those obstacles to continue doing what I love without limits.
Continue reading at: http://leomanzano.com/blogs