Top Mile Fields Expected at Camel City Elite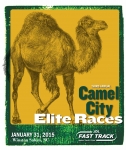 January 19, 2015
Event record $40,000 in prize money and bonuses available for indoor events on Saturday, January 31
WINSTON-SALEM, N.C. – JDL Fast Track has released the final roster of professional athletes who will be competing for an event record $40,000 in prize money and bonuses. Camel City Elite will be held on Saturday, January 31, 2015, as part of the Hilton Garden Innvitational collegiate meet. The Camel City Elite portion of the meet will begin at approximately 2:00pm and will last approximately 2.5 hours.
Women's Mellow Mile presented by Mellow Mushroom Winston-Salem
The women's field for the Mile includes two-time Olympian and U.S. 2 Mile record holder, Shannon Rowbury of Nike's Oregon Project. Rowbury is coming off a 4:27 Mile effort on January 17 at the UW Preview meet in Seattle. Morgan Uceny of adidas is another Olympian in the field of 6 professionals. She was a 2012 Olympian at 1500m and was ranked #1 in the world in 2011 at that distance. Heather Kampf, winner of the 2014 Camel City 800m event at JDL and owner of a 4:30 Mile PR, will be moving up to her preferred distance in 2015. Furman Elite from Greenville, SC, will be sending three athletes to the event: Heidi See and Stephanie Garcia will be rounding out the field, with teammate Melissa Salerno taking on the pacing duties.
The facility record of 4:35.07, set last year by Brooks' Sara Vaughn, is definitely in jeopardy, according to JDL Fast Track facility director Craig Longhurst. "Not only would I not be surprised to see that record fall based on the field we have assembled, but the North Carolina all-time Mile record for women, which stands at 4:34.04 set by Heidi See this past summer, could also go down."
The women will be competing for a $4000 first place award and a $1000 bonus if they break the existing facility record.
Camel City Elite presented by Salem Sports
The men's Mile field is as deep if not deeper than the women's field. The early favorite, based on past credentials, has to be Leo Manzano (HOKA ONE ONE), the 2012 London Olympic 1500m silver medalist and owner of a 3:50.64 Mile PR. Will Leer (Nike), the 2014 Wanamaker Mile champion and owner of a 3:51.82 PR, will make sure that Manzano doesn't have it easy. Cory Leslie of Furman Elite and Nike will be on hand to defend his facility record, which stands at 3:57.81. Leslie also has a 3:53 Mile PR to his credit. Leslie's training mate at Furman Elite, Michael Hammond, will also be competing.
Matt Elliott of Brooks and In the Arena will be competing in his third Camel City Elite Mile, where he has finished third and second the last two years. Elliott owns a 3:36 1500m PR. Riley Masters of Brooks Beasts TC and owner of a 3:56 Mile PR rounds out the field. Masters finished third in this event last year. Finally, local favorite Donnie Cowart of Crazy Running will be rabbiting the field. Cowart is no stranger to the Mile, breaking 4:00 this past summer.
Like the women, the men have a legitimate shot of not only breaking the facility record, but also the North Carolina all-time record, which stands at 3:57.30 set by Ken Popejoy from 1973. "Breaking the facility record would be nice, but being able to say the fastest men's Mile ever run in North Carolina occurred at JDL would be a great honor for our facility," said Longhurst.
The men will also be competing for a $4000 first place award and a $1000 bonus if they break the existing facility record of 3:57.81.
Camel City Elite organizers have been a part of the Bring Back the Mile campaign since 2012 and the past two BBTM Tours.
Camel City sponsors
Camel City Elite has benefited from the generosity of its corporate sponsors and crowd fund supporters who have contributed more than $30,000 of the prize money and bonus pool. In addition to Salem Sports and Mellow Mushroom Winston-Salem as title sponsors of the men's and women's Mile races, JDL Fast Track has secured 19 sponsors who have contributed to the prize money pool or assisted with providing products to assist with the meet's hospitality.
These sponsors include:
Champion, Daggett Shuler, First Tennessee Bank, Foothills Brewing Company, Gregory Poole Power Systems, Hampton Inn Hanes Mall, Johnson Controls, Keiger Graphic Communications, Medallion Athletics, Mondo USA, Norman & Young Group – Merrill Lynch, Panera Bread, The Phoenix Company, RHFitPro, Sammy Phillips Electric, Toshiba, Twin City Track Club, UCS and Visit Winston-Salem
The generous support of these sponsors have helped to attract top world and national class athletes to Camel City Elite.
For the confirmed athletes for the 60m High Hurdle, 800 meter and 3000 meter races go to: www.jdlfasttrack.com
About Camel City Elite
Camel City Elite is a set of elite races held within the larger college Hilton Garden Innvitational. The Camel City Elite races will be held on Saturday, January 31, 2015. The races set to be contested include the men's and women's 800m, Mile and 3000m races, as well as the men's 60m Hurdles. The Mile races have prize money of $4000 for 1st place, $2000 for 2nd place, $1000 for 3rd place and $500 for fourth. The 800m and 3000m races have $2000 / $1000 / $500 prize breakdown. Each of the distance events have an additional $1000 bonus to the winner if they break the current facility records. The hurdles race will feature a $1500 prize to the winner and $500 facility record bonus.
About JDL Fast Track
JDL Fast Track, one of the premier indoor track & field facilities in the southeast, is a privately owned, dedicated indoor track & field facility, that opened in January 2012, houses a 200 meter oval track with a Mondotrack FTX surface—the same surface used at the 2012 Olympic Games in London. JDL Fast Track has current seating capacity of approximately 1,700, with future expansion possibilities more than 3,000 spectators.
JDL Fast Track will also play host to multiple NCAA Division I and Division II conference meets in 2015, as well as serving as the host for the NCAA Division III Indoor Track & Field Championships and USATF Masters Indoor Track & Field Championships.