Track & Field: The Mile Still Thrives in a Metric World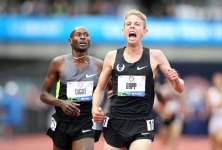 January 29, 2013
By Red Shannon, Bleacher Report
Last weekend's action in the world of track & field did nothing to help the cause of those who would convert us all to an exclusive global metric system.
Continuing to survive as the last holdout of the old imperial system of measurement, the Mile run last Saturday solidified its relevance in the realm of the runner's sport.
In a magical five-minute window of time, two individuals rattled the record books in noteworthy early-season surprises.
In New York's New Balance Games, 16-year-old Mary Cain pulverized (four minutes, 32.78 seconds) the national high school indoor Mile record which had endured for 41 years—and, for good measure, took down the 1500 meter high school record along the way. It was also 2013's fastest time in the world at the Junior competition level.
At the moment of Cain's dramatic finish, American 10,000 meter record holder Galen Rupp was entering the final 400 meters of his indoor Mile at the Boston University Terrier Invitational, only 215 miles away. Rupp kicked to the fifth-fastest indoor Mile ever, in 3:50.92, narrowly missing Bernard Lagat's American indoor record (3:49.89).
Continue reading at: bleacherreport.com