Track Star Leo Manzano Returns to Marble Falls After Olympic Silver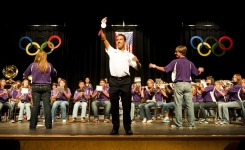 September 30, 2012
By Jazmine Ulloa, American-Statesman
MARBLE FALLS, Texas - It was a welcome back celebration of Olympic proportions for track star Leo Manzano on Sunday inside the Marble Falls High School auditorium.
More than 500 people roared with applause, whistling and cheering wildly as the silver medalist took the stage in a ceremony honoring his return after competing in the 2012 Olympic Games in London and six months of traveling abroad.
"We did it. We brought it back," he told the audience, holding up the medal he won in the men's 1500 meter race, the first a U.S team member has taken home in men's middle distance running in more than 40 years.
Continue reading at: statesman.com