Warrior Mile beach run brings hundreds together at Delnor-Wiggins for children's causes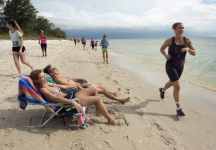 September 01, 2015
The beach run raised more than $6,000 and will benefit five local charities: Gigi's Playhouse, Passion Foundation, Adonis Autism, Caleb's Crusade and the Kira Foundation.
By Alexi Cardona, Naples Daily News
Amie Sanders couldn't control the smile that swept over her face when she saw how many people showed up to her organization's charity beach run Saturday afternoon.
She zipped back and forth from the registration tent to her car, then to the beach and back, preparing raffle items, taking photos and guiding volunteers.
"I feel like I'm living outside of my body right now," Sanders, 28, said.
Black clouds loomed over the beach at Delnor-Wiggins Pass State Park. Some of the runners were worried the event would be a washout before it even started, but the weather held out.
More than 250 people turned out Saturday afternoon for the inaugural Warrior Mile, a one-Mile beach run benefiting five local charities ranging from Down syndrome to pediatric cancer.
Continue reading at: naplesnews.com