Wheating's second shot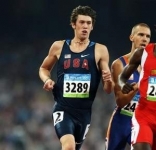 August 02, 2012
Vermonter gets another crack at Olympic dreams
By David Woods, USA Today
LONDON — Andrew Wheating says he's not the wide-eyed, autograph-seeking tourist he was at his first Olympics four years ago. Neither is he the fearsome Miler who ran the world's fourth-fastest 1500 meters two years ago.
So when the first round of the 1500 at the Olympics goes off today, an answer will be revealed.
Where is he right now?
Continue reading at: burlingtonfreepress.com