Who's Better, Drew Hunter or Michael Slagowski?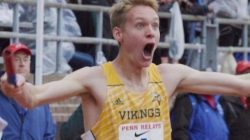 May 05, 2016
Hunter would have a big edge in a pro race, and Slagowski would have a better shot in a "Teens Night at the Club" high school-only race.
By Johanna Gretschel and Dennis Young, FloTrack
After Drew Hunter and Michael Slagowski ran epic Miles on opposite ends of the U.S. this weekend, MileSplit's Jojo Gretschel and Dennis Young got into an argument about who would win a race between the two.
Dennis: Jojo, we just spent 10 months hyping up Drew Hunter; I wrote an article this winter (correctly) saying he could be the best prep runner since Alan Webb. And now there's someone his own age who might be better. What a time to be alive! Michael Slagowski broke 4:00 on a cool day in Portland, with an incompetent rabbit--the poor kid physically knocked someone out of the race--while Drew's sub-4:00s were in pro fields on a blazing-fast Armory track with no wind. Could Slagowski beat Hunter in a Mile? (By the way, 1K and down I'm taking Slagowski, 2K and up I'm taking Hunter).
Jojo: Dennis, Slagowski could beat Hunter in a Mile. He ran 1:48.7 for 800m in a solo effort, nearly six seconds ahead of the next finisher. His open 400m best is 49.04, though he says he has split 48-mid on a relay.
Meanwhile, Drew's open 800m best is 1:52. Our database does not list an open 400m time, but I don't believe he has ever broken 50 seconds.
Continue reading at: flotrack.org