Why Can't Women Run the Mile?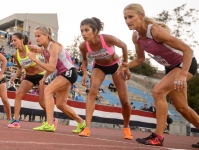 July 24, 2014
The fans at the Michigan Track Classic would see records galore if the women get the chance to run the Mile in future years.
By Jeff Hollobaugh, Michtrack.org
In this era of Mile fever, with the folks at Bring Back the Mile being astonishingly successful at reinvigorating the popularity of the classic four-lapper, it's hard not to notice that one half of our population is left conspicuously out of the mix.
Last year after the success of the first Michigan Track Classic in Saline, I was one (I'm sure there were others), who said, "Now how about women next year?" The response was that the fans would get more enjoyment out of watching female 800 meter runners try to break 2-minutes. Big barriers sell.
Yes and no. We all love barrier breakers, but there probably isn't a track meet in the state, from the middle school level through the college ranks, that doesn't offer a women's 800. We've seen plenty. Breaking 2:00 is cool, of course, but the best women are going after that mark all the time.
Yet women in track & field aren't really in a "Bring Back the Mile" situation. They never had it in the first place. Collegiate women's track went big time in the early 1980s, at the same time that metric tracks became commonplace. The women went straight to the 1500. The NCAA has preserved the Mile as an indoor championship distance, but otherwise, women rarely get the chance to ever run the storied event.
Many top-class female 1500m runners go years without ever running a Mile outdoors when they are in peak shape. The stats back me up. Up to this point in the 2014 outdoor season (07/24), there have been 91 performances at 4:10 or better in the 1500 worldwide. There have only been eight times under 4:30 for the Mile, which is the equivalent mark. Roughly speaking, this means that for a top female middle distance runner, whenever they run a 4-lapper, there's less than a 10% chance that it's a Mile. The guys have it much better. More than 26% of their races are Miles. Fans love the Mile, but for some reason, meet directors don't think women deserve a chance.
That 4:30 mark represents a classic barrier for the women. Only eight times has it been broken this year outdoors (and eight times indoors)! Meanwhile, men have broken the 4:00 mark 70 times in 2014, plus another 48 indoors.
Continue reading at: http://michtrack.org