Why the Mile Is Dead (and Worth Saving)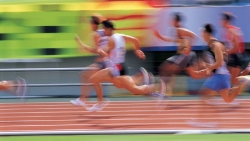 May 06, 2014
Sixty years removed from Roger Bannister's breakthrough run, the distance is all but dead in the U.S. But a new organization hopes to change all that—and rebuild running from the Mile up.
By Monica Prelle, Outside Magazine
Rounding the bend to the final straightaway of the 1964 Compton Relays, Jim Ryun's arms pumped. He felt no pain as he kicked the home straight. When Ryun crossed the finish line in eighth place, the 17-year-old from Wichita, Kansas, became the first high school boy to run a sub-4 minute Mile.
"Coach Timmons and I wrote the goal down. We planned and prayed, and it turned out that I ran 3:59 that day," Ryun said. "It was the beginning of a new future."
For nearly a decade, the world record in the Mile was stopped at four minutes. When Roger Bannister broke the barrier May 6, 1954, he accomplished the impossible. Ten years later, Ryun raised the benchmark for high school boys. Since then, progress has stopped. High school boys and girls rarely run the Mile. The crowd's favorite distance has faded into an obscurity through an act of Congress.
Sixty years after Bannister's record run, a grassroots organization is hoping to change all that—and rebuild American running from the Mile on up. Bring Back the Mile, founded in 2012 by Ryan Lamppa (who also helped create Running USA), intends to lobby state high school athletic boards to bring the distance back to championship events. Their hope: the world's most iconic distance will inject new enthusiasm into track and field and preserve the history of the sport.
Continue reading at: www.outsideonline.com