Willis Wins New Balance Indoor GP Mile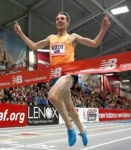 February 08, 2015
2008 Olympic 1500 silver medalist also sets meet and New Zealand indoor records; USA's Ben Blankenship runner-up clocking 3:53.13 (#8 U.S. male indoors)
By LetsRun.com
BOSTON - Being a stay-at-home dad is working quite well for Nick Willis who became a father in the summer of 2013. Last year, he set PRs at 1500m and the Mile, dipping under 3:30 and 3:50 for the first time.
At Saturday's New Balance Indoor Grand Prix, Willis opened his 2015 racing season with a bang by running 3:51.61, a New Zealand indoor record and the world's fastest Mile this year to-date, nearly 1.5 seconds faster than he's ever run indoors, all at the age of 31.
Afterwards, the 2008 Olympic 1500m silver medalist, who is coming off a training stint at altitude in Flagstaff, AZ, was quick to credit being a stay-at-home dad.
"I basically want to do this as long as I can so I don't have to get behind a desk," said Willis on NBCSN who said he is a stay at home dad with a 2.5 hour break (to work out).
Willis' wife Sierra and son Lachlan were there with him for this race, and he snuck a kiss with each of them on his way to the track just before the race. Afterwards, Lachlan played with a Michigan hat in the arms of coach Ron Warhurst as Willis spoke to the media.
Surprisingly, as fit as Willis was, he did not know he broke the Kiwi indoor record until Lewis Johnson told him on the broadcast; Mile legend John Walker's old New Zealand record was 3:52.8.
Willis knew he had good speed coming in, saying he had run 1:21 and 51 for 600 and 400 in workouts. "I knew my close was going to be good. It was just a matter of can I hang on?"
Continue reading, with post-race videos and results, at: www.letsrun.com