World's Top Milers Slated for Bowerman Mile at 39th Prefontaine Classic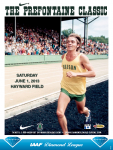 May 22, 2013
Recent Olympic 1500 gold medalists Makhloufi, Kiprop headline men's field; Manzano, Centrowitz lead American contingent
EUGENE, Ore. – The storied Bowerman Mile annually closes the Prefontaine Classic on the highest of notes, but this year's finale on Saturday, June 1 seems destined to send Eugene's fans into orbit. Not only is every London Olympic 1500 meter medalist confirmed, but so is each of the IAAF Diamond League's previous winners.
It doesn't stop there. Also confirmed are every one of the top 10 in the world as ranked by Track & Field News, as well as all 11 currently top-rated by All-Athletics.com, which combines 2012 accomplishments with current-year performances.
The Bowerman Mile is a cornerstone of the Pre Classic, the 39th edition to be held June 1. It annually holds the best men's Mile race in the world, and since 2000 has been named in honor of legendary Oregon coach and Nike co-founder Bill Bowerman.
To see the incredible men's field with Mile PRs expected for the Bowerman Mile, continue reading at: PreClassic.com