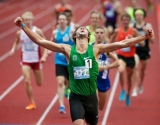 June 17, 2014
"I was very naïve four years ago. I didn't know what I was doing. Now it's like I know what I'm capable of, I know what I can do and I want to show everybody."
By Aaron Kasinitz, The Oregonian
As Andrew Wheating crossed the finish line on the track at Lewis and Clark College on Sunday night,...
Read More
comments