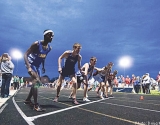 March 21, 2013
At Franklin Central High, Indiana's top Milers get a taste of what football feels like.
By Sarah Lorge Butler, Running Times
The music blares, cymbals crash courtesy of a pep band, and fans crowd the field, forming a narrow tunnel for the athletes to pass through as they jog into view. One by...
Read More
comments