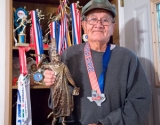 January 04, 2016
His running started with 8-plus minute Mile and now his son Israel Villarreal Jr. and his grandson Israel III now participate with him.
By Maricela Rodriguez, Valley Morning Star
Eighty-one-year old Israel Villarreal loves to run.
Villarreal was born in San Benito in 1933 and worked in the...
Read More
comments