81-year-old runner looks beyond the finish line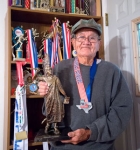 January 04, 2016
His running started with 8-plus minute Mile and now his son Israel Villarreal Jr. and his grandson Israel III now participate with him.
By Maricela Rodriguez, Valley Morning Star
Eighty-one-year old Israel Villarreal loves to run.
Villarreal was born in San Benito in 1933 and worked in the retail industry most of his life.
He and his friend Eleazar Gonzalez enlisted in the Marines together during the Korean War era. He served his country for three years.
In 1971 while working at a grocery store, a co-worker invited him to participate in a 1-Mile run. He didn't want to but his co-worker convinced him to go and he ran the Mile in eight and a half minutes.
"You won't believe the next morning when I got up, I was walking all stiff and dragging my feet," he said.
So, the next year he prepared for the run.
"After work I would go to the track and train by myself."
He timed himself as he walked around the track.
"I was doing five minutes and forty-five seconds," he said.
Continue reading at: www.valleymorningstar.com