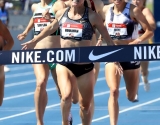 June 06, 2020
She intends to run both the 1500 and 5000 at the Olympic Trials next year even though the Tokyo Games schedule precludes serious consideration of racing both there.
By Sieg Lindstrom, Track & Field News
"We become what we behold. We shape our tools and then our tools shape us."
Case in...
Read More
comments