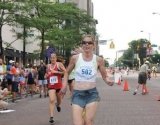 May 22, 2017
Celebrate the fact that you have run the most glorious distance in all of running!
By Jill Geer, ​Beyond Monumental
With all due respect to other distances, there are exactly three glamour events in running: The 100 meters, the Mile, and the marathon.
The marathon takes months to train for,...
Read More
comments