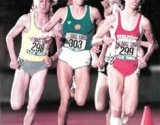 September 02, 1985
When it came up again, there was no expression there, nothing but running animal. She held her form.
By Kenny Moore, Sport Illustrated
Morocco's Said Aouita came flailing into the stretch of the 1500 meters in West Berlin's Olympic Stadium last Friday night looking as if his teeth were going...
Read More
comments