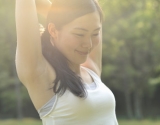 May 16, 2014
Exercise is a promise that isn't easy to keep. It is sometimes glorious, sometimes hideous, but always valuable.
By Liz Margolies, The Huffington Post
The evil NYC winter finally departed and it took my excuses with it, leaving me sitting at home, still lazy, flabby and tired. I was moved...
Read More
comments