2-Time Olympic Medalist Nick Willis, Defending Champ Katie Mackey Headline Aetna Falmouth Elite Mile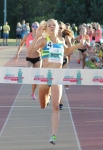 August 10, 2017
Top fields to vie for $15,000 guaranteed prize purse plus time bonuses at New Balance Falmouth Road Race Weekend track event on Saturday, August 19
From New Balance Falmouth Road Race
FALMOUTH, Mass. – Nick Willis, the two-time Olympic medalist at 1500 meters, and three-time winner Katie Mackey will headline the fields for the Aetna Falmouth Elite Mile on Saturday, August 19, organizers have announced.
The Aetna Falmouth Elite Mile will begin at 5:45pm on Saturday, August 19, on the James T. Kalperis Track at Falmouth High School. Total prize purse for the men's and women's fields is $15,000, not including possible time bonuses, with the race champions each taking home $3500.
For the first time, the Aetna Falmouth Elite Mile, as well as the Tommy Cochary High School Mile and the SBLI Family Fun Run, will be streamed live on the New Balance Falmouth Road Race Facebook page.
Willis, who lives in Ann Arbor, MI, won the Olympic silver medal in 2008 and bronze in 2016, and also holds four New Zealand national records. He will return here for the first time since 2010. Willis is currently competing at the IAAF World Championships in London, with the 1500m final set for August 13.
He will face 23-year-old Craig Engels, a rising U.S. middle-distance star. Engels finished fourth at 1500m in the recent USATF Outdoor Championships and barely missed making the 2016 Olympic team at two distances when he finished fourth at 800m and fifth at 1500m in the Olympic Trials.
Among those returning to Falmouth are Colby Alexander, who was runner-up last year by one one-hundredth of a second in a photo finish, and Garrett Heath, the USA 1 Mile Road Champion in both 2013 and 2015
Making their Falmouth debuts will be Mason Ferlic, the 2016 NCAA Champion in the steeplechase; Julian Matthews, a 2016 Olympian for New Zealand; Daniel Herrera of Mexico, runner-up at the 2017 Medtronic TC 1 Mile, and Izaic Yorks, an eight-time All-American for the University of Washington who in 2016 ran the fastest collegiate indoor mile ever by an American (3:53.89).
Headlining the women's race will be Mackey, who last year became the first three-time race winner, male or female, since the Mile began here in 1995. The American record holder in the 4x1500m relay, Mackey won her first national title earlier this year when she became the 2017 USA 1 Mile Road Champion.
Among her chief rivals will be two-time Falmouth winner Nicole Sifuentes of Canada (2010-11), the 2015 Pan Am Games silver medalist and 2014 IAAF World Indoor bronze medalist at 1500m; Natalja Piliušina, the Lithuanian national record holder in the Mile and 2013 NCAA Champion at 1500m; Kate Van Buskirk, the 2014 Commonwealth Games bronze medalist from Canada, and Heather Kampf, a four-time USA 1 Mile Road Champion who joins Mackey as the American record holder in the 4x1500m relay. Kampf returns after a third-place finish here last year.
They will be challenged by Lauren Johnson, member of Team USA for the 2015 IAAF World Championships; Hannah Fields, who won the TrackTown Summer Series 1500m in San Francisco earlier this summer; Sara Sutherland, a four-time NCAA All-American; Dominique Scott, a 2016 Olympian at 10,000m for South Africa, and Katrina Coogan, who trains with Team New Balance Boston and was an 11-time NCAA All-American out of Georgetown.
The Aetna Falmouth Elite Mile, which began in 1995, has played host to more than two dozen Olympians, including Morgan Uceny, Amy Rudolph, Carmen Douma-Hussar, Carrie Tollefson, Suzy Hamilton, Donn Cabral, Marc Davis, Robert Gary, Jason Pyrah and 2012 Olympic silver medalist Leo Manzano, in addition to Willis. The event records are held by Hamilton (4:25.27, 2002) and Jordan McNamara (3:54.89, 2011).
Visit falmouthroadrace.com for more event information.