Aetna new Title Sponsor of the Falmouth Mile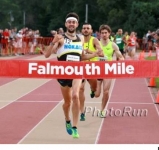 May 13, 2016
Elite Mile to return as a highlight of New Balance Falmouth Road Race Weekend
FALMOUTH, Mass. — Aetna, the Hartford, Conn.-based health care company, will become the title sponsor of the elite Falmouth Mile, race organizers have announced.
The Aetna Falmouth Mile, with a prize purse totaling more than $13,000, will begin at 6:00pm on Saturday, August 20, on the James T. Kalperis Track at Falmouth High School. Aetna will also continue as the Official Volunteer Sponsor of the New Balance Falmouth Road Race, a partnership that began in 2015.
"We are happy to lend our name and support to the Aetna Falmouth Mile, an event that perfectly complements our mission to build healthier communities and a healthier world," said Aetna President Karen S. Lynch. "We are committed to encouraging healthy lifestyles – physically, mentally, and socially – in partnership with the Falmouth Road Race organization."
The Falmouth Mile, which began in 1995, has played host to more than two dozen Olympians, including Amy Rudolph, Morgan Uceny, Carmen Douma-Hussar, Carrie Tollefson, Suzy Hamilton, Donn Cabral, Marc Davis, Robert Gary, Jason Pyrah and 2008 Olympic silver medalist Nick Willis. The event records are held by Hamilton (4:25.27, 2002) and Jordan McNamara (3:54.89, 2011).
"We're excited to be bringing back the elite Mile after a one-year hiatus, and thrilled that Aetna is joining us as the first title sponsor in the event's history," said Scott Ghelfi, president of the Falmouth Road Race, Inc., Board of Directors. "The Aetna Falmouth Mile will be the perfect way to cap off an afternoon of family fitness and entertainment, and the ideal prelude to our historic New Balance Falmouth Road Race the next morning."
The elite Aetna Falmouth Mile on Saturday, August 20 will serve as the finale to a series of late-afternoon events that begin with the SBLI Family Fun Run at 4:00pm, followed by the Falmouth Youth Mile and the Tommy Cochary High School Mile, which showcases some of the best high school milers from throughout Massachusetts.
The Aetna Falmouth Mile is also a 2016 Bring Back the Mile Featured Event, showcasing the best Mile events across America,
Visit falmouthroadrace.com for more information.