Amid Cancer News, U.S. Champion Chooses to Keep Racing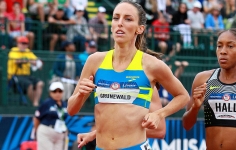 May 10, 2017
Medtronic TC 1 Mile up next for Gabriele Grunewald who endures the uncertainty of her future by continuing to do what she does best.
By Cathal Dennehy, Runner's World
As the clock ticks past two minutes, the first signs of stress announce themselves on Gabriele Grunewald's face.
Her eyes narrow to a squint, as if she's straining to read a distant road sign, and her mouth clenches. As fatigue takes hold, the muscles in her neck tighten, slowly pulling her vision skyward.
Up ahead, she is faced with a demoralizing sight: Her seven rivals are escaping into the distance. They are athletes whom Grunewald could beat by several seconds at her best, but that was then and this is now. Tonight, on a cold Friday evening in Palo Alto, California, things are different.
Continue reading at: www.runnersworld.com