Book details 1954 Empire Games glory and 'Miracle Mile'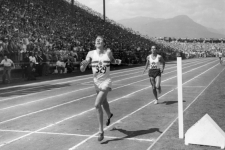 April 20, 2016
We have in the BC Sports Hall of Fame collection one of the 25 Omega stopwatches that was used to time the Miracle Mile and unbelievably it's still stopped at Roger Bannister's winning time of 3 minutes, 58.8 seconds!
By Megan Stewart, The Vancouver Courier
The stand-alone image of the 1954 Empire and Commonwealth Games is two men breaking the 4 minute Mile.
A first in world sport at the time, the achievement once believed physiologically unattainable is a moment still stopped in time, not only as statue at Hastings Park, but also in the hand-held Omega stopwatch, frozen at 3 minutes, 59.6 seconds, evidence of John Landy's equally impressive silver medal performance on Saturday, Aug. 7, 1954.
In the introduction to his new book, Miracle Mile: Stories of the 1954 British Empire and Commonwealth Games, historian Jason Beck writes about the inspiration he felt when he first laid eyes on the artefact, as if he was "connected back to a moment stopped in time for decades."
Continue reading at: www.vancourier.com