Bring Back the Mile Rejects Facebook Buyout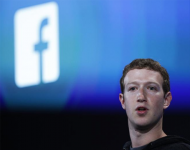 April 01, 2014
$359.4 million offer declined by BBTM because "the Mile is worth more, way more."

SANTA BARBARA, Calif. – Bring Back the Mile, the national campaign to elevate and celebrate the storied distance, has confirmed its rejection of a $359.4 million buyout offer by Facebook. TechCrunch amongst other reliable Silicon Valley sources first reported the attempted buyout last week. The social media giant has added fast growing tech companies such as Instagram, WhatsApp and most recently Oculus Rift to its empire.

In its all cash offer, Facebook and its founder, Mark Zuckerberg, stated that the Mile's emotional and intrinsic connection with people of all ages, particularly in America, gave it the perfect foundation to greatly enlarge its footprint in the sports world and beyond. In the lucrative live sports industry, Facebook has struggled to keep pace with the likes of Yahoo! Sports and ESPN as well as upstarts such as Mark Cuban's AXS TV.
Zuckerberg, a junior in high school when Alan Webb broke Jim Ryun's long-standing high school Mile record in 2001 with his 3:53.43 clocking, holds a personal passion for the Mile after witnessing and admiring Webb's youthful achievement.

In addition, a person privy to the discussions between BBTM and Facebook, but who wished to remain anonymous shared that Zuckerberg was shocked when he learned that high school boys and girls were competing in the made-up distance of 1600 meters not the Mile. He emphasized that returning the storied distance to U.S. high school track & field would be an incredible way to increase interest and "buzz" in the sport, one that also has the largest participation numbers in the U.S., an important demographic for Facebook to engage.

"The Mile is an iconic brand and essentially priceless, and our valuation indicates that the Mile is worth more than $359 million, way more," said Ryan Lamppa, Bring Back the Mile founder. "We do appreciate the interest and generous offer by Facebook and Mark Zuckerberg, but like Facebook, who also turned down several enticing offers in its formative years, BBTM, like SnapChat, will wait until an offer matches our valuation set point. With our sponsors, partners and supporters, we will continue to elevate and celebrate the Mile."

This year, Bring Back the Mile, launched in January 2012, announced the inaugural BBTM Grand Prix Tour and its first major sponsor, HOKA ONE ONE. For more information, go to: bringbackthemile.com