Catching Up with Florida State's Amanda Winslow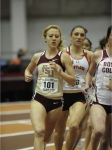 April 25, 2013
By Scott Bush, RunnerSpace.com
After a phenominal indoor season, which saw her finish second in the Mile at the NCAA Indoor Track & Field Championships, Florida State senior Amanda Winslow is poised for another big outdoor track season. As one of the senior leaders of the always strong Florida State program, Winslow has high hopes for herself in her final collegiate season. We caught up with the Georgia-native, discussing her goals for this season, why Florida State is such a strong program and reflect a little bit on her favorite moments as a Seminole.
Scott Bush (SB): You were seventh at the NCAA Outdoor Track & Field Championships in the 1500m last spring, then came into the NCAA Indoor Track & Field Championships and finished second in the Mile, just behind Emma Coburn and well ahead of the rest of the field. What did your indoor campaign tell you about your fitness and what are your expectations this outdoor season?
Amanda Winslow (AW): My indoor season proved that I am in the shape my workouts have been telling me. It certainly raised my expectations for this outdoor season. I hope to lower my 1500 PR again and be a contender for the 1500m title.
SB: You ran the 5000m at the Florida Relays, winning with a time of 16:00. Will the 1500m remain your primary focus this spring or do you foresee yourself transitioning to the 5K during the outdoor season?
AW: The 1500 will remain my focus this year since I hopefully have plenty of years ahead to really train for the 5000m. However, Coach and I both believe having a decent 5000m or two under my belt will benefit my 1500m.
SB: What does a typical week of training look like for you at this point in the season?
AW: In outdoor season I'll train somewhere between 50 and 70 miles a week. We'll do some tempos, VO2 and lactic threshold intervals, or a combination such as 2 x 800 @ VO2 and 1000m splits. We all do group core and lift weights together several times a week and it can get pretty intense when we count out pull-ups and go at the punching bag!
SB: You've progressed quite a bit as an athlete at Florida State and have been on some amazing teams. What would you say are one or two of the key reasons why you've been so successful at Florida State?
AW: Attention to detail has been key. Whether its fixing our form, adding in a new strength exercise or stretching a few extra minutes, Coach Harvey has instilled in all of us the difference these little things can make.
I think the other reason we are so successful is because success can be contagious. We've had incredible leadership over the years and the younger runners want to taste the same success as our veterans. It's been amazing the last two years especially, seeing freshman and transfers come in and push the rest of us. We all learn from each other but also know how to keep a balance between pushing the workouts and not racing them.
SB: Not to look too far ahead, but with it being your senior year, do you plan to continue on as a professional once you graduate from FSU?
AW: As long as I stay healthy and continue loving the training, I don't see myself stopping anytime soon. My training progression through high school and college was steady and consistent so I believe there is still another level to reach. I also have several career goals still yet to achieve so I don't plan on giving up until I achieve those.
Continue reading at: runnerspace.com