Catching Up with Florida State's Amanda Winslow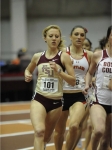 April 25, 2013
By Scott Bush, RunnerSpace.com
After a phenominal indoor season, which saw her finish second in the Mile at the NCAA Indoor Track & Field Championships, Florida State senior Amanda Winslow is poised for another big outdoor track season. As one of the senior leaders of the always strong Florida State program, Winslow has high hopes for herself in her final collegiate season. We caught up with the Georgia-native, discussing her goals for this season, why Florida State is such a strong program and reflect a little bit on her favorite moments as a Seminole.
Scott Bush (SB): You were seventh at the NCAA Outdoor Track & Field Championships in the 1500m last spring, then came into the NCAA Indoor Track & Field Championships and finished second in the Mile, just behind Emma Coburn and well ahead of the rest of the field. What did your indoor campaign tell you about your fitness and what are your expectations this outdoor season?
Amanda Winslow (AW): My indoor season proved that I am in the shape my workouts have been telling me. It certainly raised my expectations for this outdoor season. I hope to lower my 1500 PR again and be a contender for the 1500m title.
Continue reading at: runnerspace.com