Defending champions Wightman, Reekie face formidable fields at the New Balance 5th Avenue Mile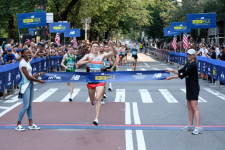 September 06, 2022
Talented field includes Olympic & World Championships medalists, British stars Laura Muir & Josh Kerr and American contenders Cole Hocker, Emma Coburn & Sinclaire Johnson; live NBC broadcast 12:00-1:00pm ET
From NYRR
NEW YORK – Defending champions and Olympic, World Championships, European Championships & Commonwealth Games medalists will all close out their seasons by racing the New Balance 5th Avenue Mile on Sunday, September 11. The world's most iconic Mile road race since 1981 stretches 20 blocks down Manhattan's most famous thoroughfare and will feature one of the strongest professional athlete fields in recent history.
All eyes will be on Great Britain's Olympic silver medalist Laura Muir, who will conclude her historic season in New York after winning a World Championships bronze, European Championships gold and a Commonwealth Games gold & bronze this summer. All her medals came in the 1500 meters, aside from her Commonwealth Games bronze, which was in the 800 meters.
"This has been the most challenging yet most rewarding summer of my entire career thus far – from World Championships to Commonwealth Games to European Championships – and there's no better place to conclude my season than on Fifth Avenue in New York," said Muir.
Challenging Muir will be her compatriot and defending race champion Jemma Reekie, Ireland's three-time European Championships medalist & 2022 Commonwealth Games silver medalist Ciara Mageean, U.S. Olympic & three-time global medalist Emma Coburn and 2022 U.S. 1500m champion Sinclaire Johnson.
Joining previously announced defending champion, Olympian & 1500m world champion Jake Wightman in the men's pro field will be Great Britain's Olympic 1500m bronze medalist Josh Kerr, U.S. Olympian & three-time NCAA champion Cole Hocker and Great Britain's European Championships 1500m silver medalist Jake Heyward.
"I feel like I have something to prove at the 5th Avenue Mile," said Hocker. "I'm looking forward to racing on that stage, against that level of talent, and finishing my season as strong as I started it."
The 2022 event offers $34,000 in prize money to Open runners ($32,000 includes a $1000 prime per gender awarded to the leader at the halfway mark) and New York Road Runners members ($2000).
Nearly 8,000 runners are expected this year across 22 total heats, including age-group and specialty heats. In addition to age-group heats, this year's New Balance 5th Avenue Mile will feature a 9/11 Memorial Mile, a Back to School Mile for youth ages 12-18, a George Sheehan Memorial Mile for seniors and NYRR Road Mile Championship heats.
In partnership with NYRR and USA Track & Field, NBC will broadcast the event nationally from 12:00-1:00pm ET. The broadcast will feature live coverage of the professional athlete races and a 9/11 memorial run, as well as a recap of the day's earlier heats. Live coverage of the event will be available internationally on USATF.TV.