Elite Mile run in remembrance of Ryan Shay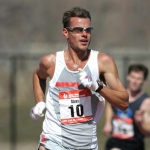 July 22, 2014
Top entrants include defending champion and event record holder Heather Kampf, Amanda Eccleston, Rob Finnerty and Daniel Stockberger
By Anne Kelly, Charlevoix Courier contributor
CHARLEVOIX — The Venetian Festival in Charlevoix would not be complete without stepping back for a moment each year to remember two local boys who made the community proud.
Jeff Drenth of Charlevoix and Ryan Shay of Central Lake became legends in their athletic fields at an early age. Their careers, though tragically ending in death, continue to be an inspiration to fellow runners and to their communities.
The Jeff Drenth Memorial Footraces are in the 36th year, while this will be the seventh year of celebrating the life and career of Ryan Shay, who is honored by bringing world class athletes to run a Mile down Bridge Street to conclude the morning running events. The competition smacks of the determination and dedication which is inherent in the sport of running, and serves as an inspiration to others who push themselves to the limits of exertion to achieve goals.
Ryan Shay attended Central Lake High School from 1993-97. He was a four-time Class D state champion in cross country running. He was a three-time consecutive Class D state champion in the 1600 meter and 3200 meter runs from his sophomore through senior track seasons, and won the Class D state title in the 800 meter as a sophomore.
Continue reading at: www.petoskeynews.com