Emily Lipari Repeats as Medtronic TC 1 Mile Champion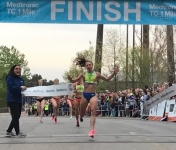 May 10, 2018
Australian Sam McEntee takes men's title in event debut; $25,000 Open prize purse awarded; BBTM Grand Prix Tour 2018 second stop
From Twin Cities In Motion
MINNEAPOLIS – Emily Lipari of San Diego and Australian Sam McEntee won women's & men's titles, respectively, at the Medtronic TC 1 Mile on Thursday evening in downtown Minneapolis.
Lipari, 25, outkicked the field for the repeat victory in 4:39.8. Cory McGee of Brighton, Mass. was runner-up in 4:41.0, while 2013 Medtronic TC 1 Mile champion Sarah Brown of East Weymouth, Mass, took third in 4:41.7.
Lipari considered aiming for Sara Hall's course record of 4:30.8, but ultimately decided against it. "I wasn't feeling so hot in the beginning, so I'm like I'm just going to chill and see what happens and go for the win," said Lipari, reigning Bring Back the Mile Grand Prix Tour champion. "I'm really happy with what I could get done being really tired. It's a big step from prior years."
McEntee, 26, who like Lipari competed for Villanova University as a collegian, ran 4:03.0 for the win in his event debut. He outran last year's runner-up Daniel Herrera of New Orleans who clocked 4:03.7 with Craig Nowak of Greenville, S.C. following closely in third (4:03.8).
McEntee, a 2016 Rio Olympian, prevailed in the homestretch of the race, despite jumping the gun on his original plan. "I went with 200 [meters] to go, despite my coach's instructions, and that last 50 was real tough, but I hung on," he said. "The crowd was good. There was a great atmosphere here. It's my first time in Minneapolis – it seems like a pretty cool city."
More than 1,800 runners ran the event which raced around Gold Medal Park and finished under the Guthrie Theater's Endless Bridge.
"We had a great night of racing from the corporate teams, to first-time runners to the pros," Twin Cities In Motion executive director Virginia Brophy Achman said. "I was happy to see Emily win again and pleased to crown Sam our new men's champion."
Overall, the 13th edition awarded $25,000 in Open prize money with Lipari and McEntee taking home $5000 each for their wins. The race was also the second stop on the BBTM Grand Prix Tour 2018 that features five premier U.S. road Mile events and offers a season ending $10,000 GP prize purse. After two Tour 2018 stops, Lipari and Herrera sit atop the women's & men's standings with 20 and 12 points, respectively.
13th Medtronic TC 1 Mile
BBTM Grand Prix Tour 2018 second stop
Minneapolis, MN, Thursday evening, May 10, 2018
MEN
1) Sam McEntee (AUS), 4:03.0, $5000
2) Daniel Herrera (LA), 4:03.7, $3000
3) Craig Nowak (SC), 4:03.8, $1800
4) Chad Noelle (CO), 4:04.0, $1000
5) Joe Coffey (MN), 4:05.7, $600
6) Brandon Hazouri (AL), 4:06.0, $400
7) Dylan Blankenbaker (CA), 4:07.7, $250
8) Brandon Lasater (GA), 4:10.0, $200
9) Lawi Lalang (KEN), 4:11.3, $150
10) Travis Burkstrand (WA), 4:11.6, $100
WOMEN
1) Emily Lipari (WA), 4:39.8, $5000
2) Cory McGee (MA), 4:41.0, $3000
3) Sarah Brown (MA), 4:41.7, $1800
4) Eleanor Fulton (OR), 4:42.2, $1000
5) Katrina Coogan (MA), 4:42.5, $600
6) Natalja Piliusina (WA), 4:51.2, $400
7) Alicia Nelson (CO), 4:53.6, $250
8) Maddie Van Beek (ND), 4:53.7, $200
9) Anna Connor (OR), 4:53.8, $150
10) Breanna Sieracki (MN), 4:57.7, $100
Complete results can be found at: tcmevents.org