Engels, Schneider Headline Aetna Falmouth Elite Mile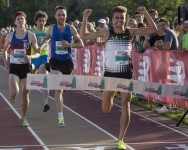 August 15, 2018
Deep international fields also includes Olympians, past men's event champions and rising stars; $15,000 guaranteed prize purse
From Falmouth Road Race
FALMOUTH, Mass. - Defending men's champion Craig Engels and Rachel Schneider, fresh off a gold medal performance, headline the fields for the Aetna Falmouth Elite Mile on Saturday, August 18, organizers have announced.
The Aetna Falmouth Elite Mile will begin at 5:00pm on Saturday at the James T. Kalperis Track at Falmouth High School. The guaranteed prize purse for the men's and women's fields is $15,000, not including time bonuses, with the winners each taking home $3500.
The Aetna Falmouth Elite Mile, as well as the Tommy Cochary High School Mile and the SBLI Family Fun Run, will be streamed live on the New Balance Falmouth Road Race Facebook page.
Engels, 24, just missed making the 2016 Olympic team at two distances when he finished fourth at 800m and fifth at 1500m in the Olympic Trials, and earlier this year he was seventh in the IAAF World Indoor Championships at 1500m. Last year in the Aetna Falmouth Elite Mile, Engels edged two-time Olympic medalist Nick Willis of New Zealand for victory (his first as a professional).
Schneider, 27, making her debut here, was runner-up at the 2018 USATF Outdoor Nationals at 5000m, and last weekend won a gold medal at the NACAC (North American, Central American & Caribbean Athletics Association) Championships at that distance.
Two other past Falmouth Mile champions are also expected to line up on the men's side: Ben Blankenship, the 2013 champion here who was a finalist at 1500m in the 2016 Olympics, the 2017 USATF Indoor Mile Champion, and fifth in the 2018 IAAF World Indoor Championships; and Will Leer, the 2010 Falmouth champion, 2013 USATF Indoor Champion at 1500m & 3000m, and 2014 winner of the prestigious Wanamaker Mile at the NYRR Millrose Games.
They will face Hassan Mead, a 2016 Olympian at 5000m and the 2018 NACAC 5000m gold medalist; and Eric Jenkins, the 2015 NCAA Indoor Champion at 3000m and 5000m who competed for Team USA at 5000m in the 2017 IAAF World Championships and was the 2017 winner of the famed Wanamaker Mile.
Also in the field are a pair of recent collegiate champions: Henry Wynne, the 2016 NCAA Indoor Mile Champion, and Josh Kerr of Great Britain, who won the same title in 2017 & 2018 and is also the 2017 NCAA Champion and NCAA record holder at 1500m. Kerr finished second to Jenkins last winter in the Wanamaker Mile.
They will be joined by Julian Oakley of New Zealand, a 2018 IAAF World Indoor Championships finalist at 3000m; Cristian Soratos, runner-up to Blankenship for the 2017 indoor title; Pat Casey, who along with Leer helped set the American record in 2014 for the 4x1500m; Will Geoghegan, a five-time NCAA All-American and former Ivy League record-holder in the Mile while at Dartmouth; Brannon Kidder, the NCAA indoor record holder at 1000m; Craig Nowak, a two-time All-American while at Oklahoma State; and Graham Crawford, a 2016 Olympic Trials semi-finalist.
In the women's race, Schneider will be challenged by Amanda Eccleston, fourth in the 2016 Olympic Trials at 1500m; Cory McGee, who competed for Team USA at the 2013 IAAF World Championships at 1500m and was USA runner-up indoors in 2016; Sarah Brown, who anchored the 4x1500m relay team in 2009 that still holds the American record; Nikki Hiltz, two-time NCAA 1500m runner-up (2017 and 2018); Sara Sutherland, runner-up in the 2017 West Chester Mile; and Helen Schlachtenhaufen, runner-up in the 2018 West Chester Mile and a two-time Heptagonals champion for Dartmouth.
The Aetna Falmouth Elite Mile, which began in 1995, has played host to more than two dozen Olympians, including Morgan Uceny, Amy Rudolph, Carmen Douma-Hussar, Carrie Tollefson, Suzy Hamilton, Donn Cabral, Marc Davis, Robert Gary, Jason Pyrah, 2012 Olympic silver medalist Leo Manzano and two-time Olympic medalist Nick Willis of New Zealand. The event records are held by Hamilton (4:25.27, 2002) and Jordan McNamara (3:54.89, 2011).