First Look at Angelina Jolie's 'Unbroken'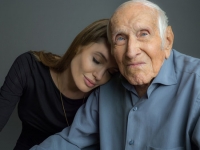 February 20, 2014
Biopic of high school Mile record holder, Olympian and WWII hero Louis Zamperini to hit theaters on Christmas Day 2014
By Amanda Bell, Yahoo Movies
In keeping with the current sense of nationalistic spirit Team USA has been tapping within many by way of Sochi, a first-look preview of Angelina Jolie's latest directorial effort has been given an Olympic release and efforts to tug at those very same red, white, and blue heartstrings.
"Unbroken" presents the riveting true story of Louis "Louie" Zamperini (played by Jack O'Connell), an Olympic distance runner-turned-World War II airman who survived a deadly plane crash and 47 days lost at sea, only to become captured by the Japanese Navy and forced to live as a prisoner-of-war.
This first-glimpse at Jolie's "Unbroken," which she recently completed filming in Australia, was revealed by Universal Pictures during the XXII Olympic Winter Games on Sunday and features introductory comments from none other than the now-97-year-old hero himself.
Continue reading at: http://movies.yahoo.com