Gabe Grunewald tribute planned at USATF Outdoor Championships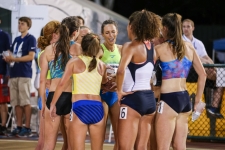 July 25, 2019
"I want her legacy to be a legacy of someone who persevered and continues to persevere."
From Associated Press
DES MOINES, Iowa (AP) — Justin Grunewald carries a lock of her hair with him as a remembrance. He has countless photos of her on his phone, along with rich stories from so many.
He feels closest to his late wife, Gabriele — "Gabe" to everyone — at random moments: On a mountain. Watching a sunset. Hearing a song. During a long run.
"I know she's always close," Justin wrote in an email. "It keeps me going."
Two years ago, Gabe ran the 1500m at USATF Outdoor Championships in between rounds of cancer treatment. On June 11, Gabe lost her battle with cancer at her home in Minneapolis — an inspiring fight that connected an entire running community. She was 32.
A tribute to her is planned this week at nationals.
"It's not hard to find her everywhere," said Justin, who is hoping to make it to Des Moines for the event.
Gabe was a popular figure — for her competitiveness, courage and positive attitude even in the midst of her illness. That's why shortly after her death, world steeplechase champion Emma Coburn wrote "Brave Like Gabe" on her bib number before a race.
That's why in Minnesota there was a "Brave Like Gabe" run on June 25 — her birthday — with a proclamation marking the day as "Gabe Day." That's why there were so many messages posted on social media.
"Gabe was a fountain of joy, friendship, hope, laughter, and inspiration," decorated distance runner Shalane Flanagan said on Instagram. "The harsh reality she faced did not dim her spirit, but seemed to ignite her love of life."
Gabe was diagnosed with adenoid cystic carcinoma — a rare form of cancer in the saliva glands — in 2009 while running for the University of Minnesota. Following surgery and radiation therapy, she went on to finish second in the 1500m at the 2010 NCAA Championships.
She kept on running through three more bouts with the disease, building a career as a professional athlete and U.S. champion while enduring surgeries, radiation treatments, chemotherapy and immunotherapy.
Never one to let anything slow her down, she postponed another round of treatment for cancer that had spread to her liver to compete at the 2017 USATF Outdoor Championships.
Just to feel like a competitor one final time.
Grunewald didn't advance out of the first round of the 1500m that day. It didn't matter. The real story was her smile .
Continue reading at: olympics.nbcsports.com