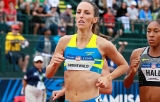 June 14, 2019
"Her story takes her through a roller coaster of stuff... she touched more people around the world than I can imagine."
By Chris Murphy, Forum News Service
MINNEAPOLIS — One of the first races Gabriele (née Anderson) Grunewald ran, she got lost. She was in middle school in Perham and ran the...
Read More
comments