Blankenship, Anderson Shatter Course Records at Minnesota Mile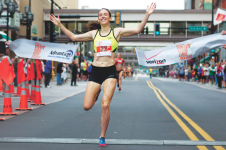 September 08, 2013
Race champions clock the fastest Mile performances ever on Minnesota soil; eight men go sub-4 minutes; 7th edition ends inaugural Bring Back the Mile Tour 2013
By Bob Gustafson
DULUTH, Minn. – It was a day for records at Sunday's seventh Minnesota Mile road race in downtown Duluth.
Ben Blankenship, 24, set a course record and personal best of 3 minutes, 52.7 seconds and claimed the winner's prize of $3000. The Stillwater, Minn. native (left, PhotoRun) edged two-time defending champion Craig Miller of Boulder, Colo., who placed second in 3:53.1 and Jack Bolas of Greenville, S.C. who was third (3:53.5).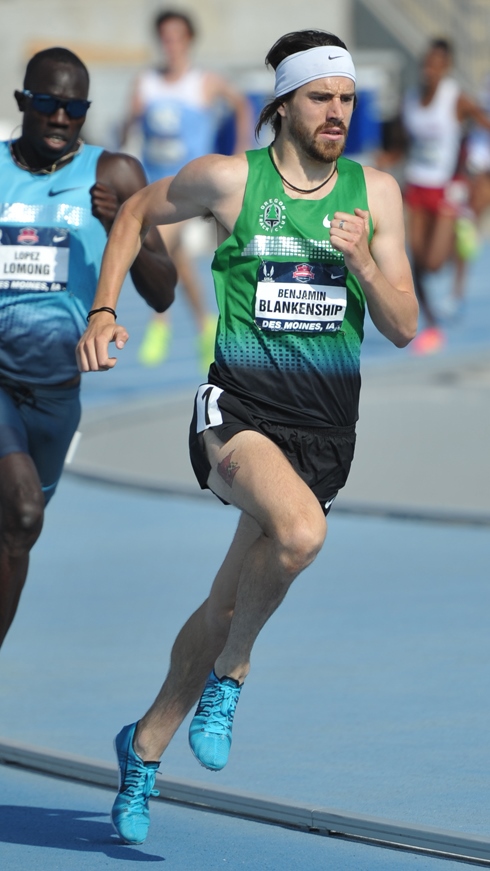 In the women's professional race, Gabriele Anderson, 27, of Minneapolis, claimed the race title and $3000 with a personal best of 4:21.3, which eclipsed the women's course record by more than 14 seconds. On the point-to-point course, she topped defending champion and Team USA Minnesota teammate Heather Kampf, 26, also of Minneapolis, who clocked 4:27.1 (also a personal best).
Post-race Anderson said: "It was definitely one of those special days where everything came together for a fast time. I felt great out there and really wanted to get some redemption after a bummer of a race on Friday in Brussels where I fell. I wanted to take a shot at the course record but I didn't expect to break it by as much as I did."
The previous course records were held by Kenya's Aron Rono (2010, 3:58.18) and Canada's Carmen Douma Hussar (4:35.60), respectively.
The Minnesota Mile was the 14th stop and finale of the nationwide inaugural Bring Back the Mile Tour 2013.
A total of 571 people registered for the Minnesota Mile event which featured four separate divisions ― Grandma's Minnesota Mile (Elite), Duluth Mile (Semi-Elite), All City Mile (Recreational) and the Verizon Kids Mile.
7th Grandma's Minnesota Mile
Duluth, MN, Sunday, September 8, 2013
MEN
1) Ben Blankenship (MN), 3:52.7*, $3000
2) Craig Miller (CO), 3:53.1, $2000
3) Jack Bolas (SC), 3:53.5, $1500
4) Diriba Degefa Yigezu (ETH), 3:54.1, $1000
5) Nathan Brannen (CAN), 3:55.0, $800
6) Dey Dey (CO), 3:55.5, $600
7) Girma Gebre (ETH), 3:57.5, $400
8) Matthew Elliott (SC), 3:58.6, $250
*course record (previous record, 3:58.18, Aron Rono (KEN), 2010); also fastest men's Mile in Minnesota
WOMEN
1) Gabriele Anderson (MN), 4:21.3*, $3000
2) Heather Kampf (MN), 4:27.1, $2000
3) Sara Vaughn (CO), 4:38.9, $1500
4) Kellyn Johnson (AZ), 4:40.2, $1000
5) Elizabeth Yetzer (MN), 4:41.7, $800
6) Jamie Cheever (MN), 4:43.0, $600
7) Doreen Kitaka (KEN), 4:46.7, $400
8) Melissa Agnew (MN), 4:47.1, $250
*course record (previous record, 4:35.60, Carmen Douma Hussar (CAN), 2010); also fastest women's Mile in Minnesota
MASTERS (40 and older)
MEN
1) Lance Elliott, 42, MN, 4:20.2, $500
WOMEN
1) Breeda Willis, 43, WI, 4:48.4, $500
Duluth Mile (Semi-Elite Division)
MEN
1) Aaron Gorman, MN, 4:34
WOMEN
1) Kailee Kiminski, 17, MN, 5:22
All City Mile (Recreational Division)
MEN
1) Ethan Shelton, Duluth, MN, 5:02
WOMEN
1) Lisa Hirsch, 31, Duluth, MN, 5:39
Verizon Kids Mile (Ages 8 to 14)
BOY
1) John Schwinghamer, 14, MN, 5:18
GIRL
1) Kelly Lorenz, 12, MN, 6:19