Torrence, Martinez Win Falmouth Mile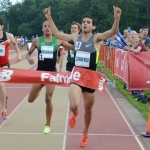 August 11, 2012
Martinez and Anderson run #1 and #2 fastest women's Mile times of the year
Jim Gerweck, The Mile wire
FALMOUTH, Mass. – (August 11, 2012) – Last year's Falmouth Mile, a track precursor to the larger, older 7-mile road race, proved to be one of the deepest ever run on American soil, with the top 10 men dipping under the magical 4-minute mark.
It would have been hard to equal that performance again, and indeed, swirling, humid winds threw an additional impediment into the mix. Nonetheless, this year's edition on Saturday evening came close, with David Torrence (right) leading five other men under 4, turning in a creditable 3:55.79 victory.
"I was a little nervous warming up," said Torrence, 26, who finished sixth at the 2012 U.S. Olympic Track & Field Trials 1500 meters earlier this summer. "I've just finished a hard block of training, and my legs felt kind of dead. Until we got on the line I wasn't sure how they'd respond."
After zipping through the two opening laps in 58 seconds apiece, the pace slowed through the three-quarter mark before defending champion and event record holder Jordan McNamara took over at the bell. "The wind was really tough on the backstretch," he said. "I was just waiting for the 200 mark to make my move, when the wind would be behind us."
That slackening of pace allowed Torrence to close a gap of several meters that had opened in the first three laps. "I was making all these mini surges to get close," recounted the three-time USA Mile road champion.
As the leaders hit the homestretch, Torrence, an Oakland, Calif. resident, unleashed a finishing sprint McNamara and the others couldn't match, finishing 0.28 ahead of McNamara, with Garrett Heath another 0.14 behind in third.
"This gives me a lot of confidence," said the winner, who pocketed $3000. "I've always heard about Falmouth, the great tradition of the road race, and I wanted to be part of the legend. Now I'm going to regroup and head to Europe for the second season and try to nail down some PRs, and then finish up with the Fifth Avenue Mile."
The women's field was equally loaded, to the extent that the schedule was swapped to allow them to run last, as the grand finale of the evening of Miles that included high school and wheelchair divisions as well. Brenda Martinez, who placed 12th at the Trials 1500, took advantage of the spotlight to notch a huge PR, her 4:26.76 victory lopping a huge margin off her previous best of 4:32.29.
"Wow, I'm really excited," she said afterward. "Right after the Trials I was having some bad leg problems, but I had some active release treatments that really worked me over, but cleared things up. I've been feeling good in workouts, and I think the rest actually helped me. I sort of had a plan going in, but with the wind swirling I figured I'd just kind of feel how things went."
Martinez, last year's runner-up, went to the front with 500 to go, and quickly opened a 10-meter lead over Gabrielle Anderson. While the gap was cut by more than half, Martinez won comfortably by just over a second as runner-up Anderson also PRed and dipped under 4:30 with her 4:27.94. Their Mile times are the #1 and #2 fastest of the year for women.
"This sets me up really well to go to Europe and try to establish myself as an elite runner," said Martinez, who graduated from UC Riverside two years ago and has been living and training in Big Bear, Ryan Hall's hometown, since.
"I don't have a group to train with," she said. "I do most of my runs by myself, although there are some guys I can do some of the harder workouts with." Martinez is coached by her boyfriend, a set-up she said works better than it might sound. "We're able to separate the boyfriend-girlfriend, coach-athlete relationship pretty well."
In the men's wheelchair race, Krige Schabort zipped to a 3:21.01 victory. The time is the fastest recorded by a wheelchair racer on the track, but since the Falmouth High School oval lacks a curb won't be recognized as a world record.
17th Falmouth Mile
Falmouth, MA, Saturday, August 11, 2012
MEN
1) David Torrence (CA), 3:55.79, $3000
2) Jordan McNamara (OR), 3:56.07, $1500
3) Garrett Heath (CA), 3:56.21, $1000
4) Craig Miller (WI), 3:56.51, $750
5) Jeff See (OH), 3:58.57
6) Cory Leslie (OH), 3:59.17
WOMEN
1) Brenda Martinez (CA), 4:26.76, $3000
2) Gabriele Anderson (MN), 4:27.94, $1500
3) Chelsea Reilly (CA), 4:30.18, $1000
4) Sarah Bowman (TN), 4:31.40, $750
5) Ashley Miller (NE), 4:39.51
6) Aisha Praight (IL), 4:50.61
For deeper results, go to: FalmouthRoadRace.com